If you love chocolate then this is the layered dessert for you. It's full of creamy, dreamy flavors and textures that make your taste buds happy. Because it's layered into one pan, it's the perfect take along for potlucks, parties and holidays. Since there's no baking involved with this chocolate lasagna, you won't have to heat up your kitchen making it perfect for warm months as well.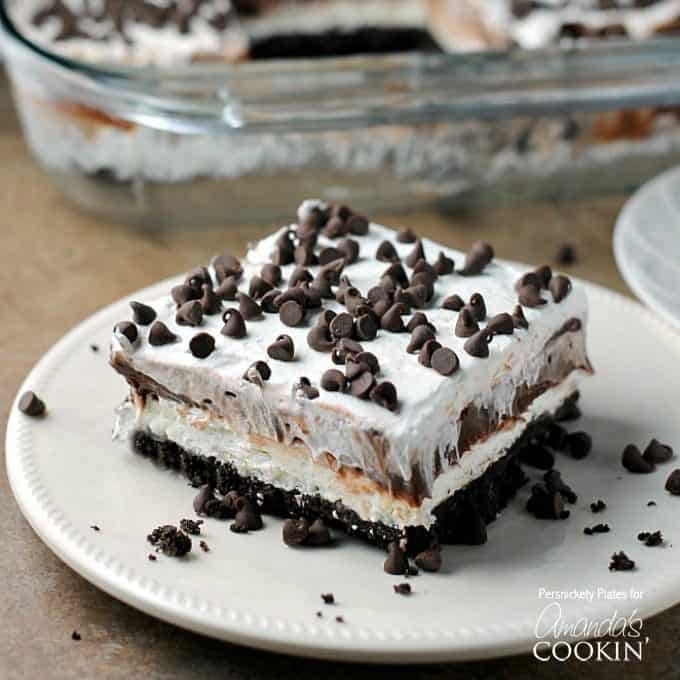 CHOCOLATE LASAGNA
2018-02-15 11:06:17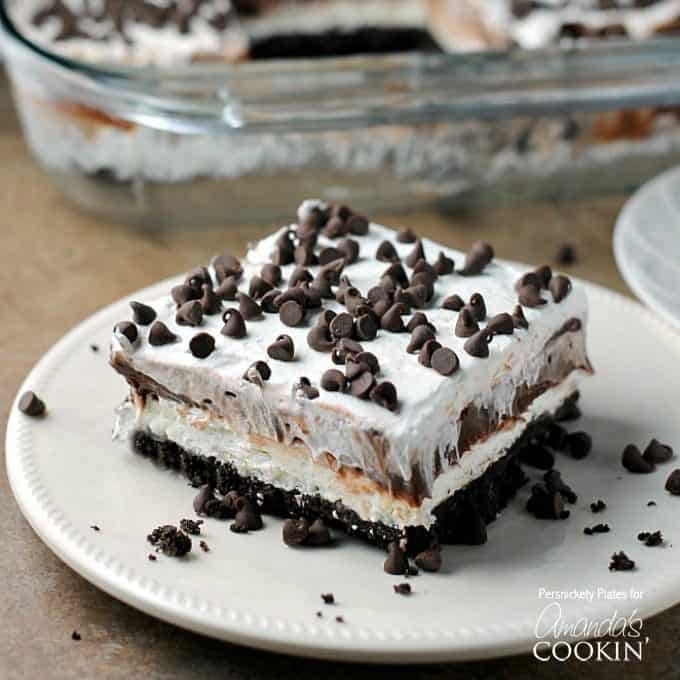 Serves 20
Chocolate lovers rejoice! This no-bake Chocolate Lasagna is filled with cream cheese, chocolate pudding, and chocolate chips on top of an Oreo cookie crust! if you've never tried chocolate lasagna you are in for a delicious treat!
Nutrition Facts
Amount Per Serving
* Percent Daily Values are based on a 2,000 calorie diet. Your Daily Values may be higher or lower depending on your calorie needs.
Ingredients
1 package (36 cookies) Oreos
6 Tablespoons butter, melted
1 brick (8 oz) cream cheese, at room temp
1/4 cup sugar
3 1/4 cups milk, plus 2 Tablespoons, divided
1 tub (12 oz) Cool Whip, divided
2 (3.9 oz) packages instant chocolate pudding
mini chocolate chips
Instructions
Use a food processor (or a zip top bag and a rolling pin) to crush the Oreos into fine crumbs.
Into a medium bowl, pour in the cookie crumbs and melted butter. Stir until thoroughly mixed.
Pour into a 9 x 13 baking dish and use a spatula (or the bottom of a measuring cup) to evenly press the crumbs across the dish.
In the same medium bowl, add the cream cheese and beat with a hand mixer until fluffy. Add in the 2 Tablespoons of milk and sugar and mix well.
Use a spatula to divide the Cool Whip in half and fold half into the cream cheese mixture.
Spread the cream cheese mixture over the cookie crust and pop it into the fridge to set for about 10 minutes.
While it's setting, to a large bowl, add the pudding mixes and 3 1/4 cups milk and beat on medium until it starts to thicken.
Spread the pudding mixture over the cream cheese layer. Put back into the fridge to set for another 10 minutes.
Once set, gently spread the remaining Cool Whip over the top and sprinkle with mini chocolate chips.
Cover with plastic wrap and let chill for at least 4 hours in the fridge or 1 hour in the freezer before you slice.
Adapted from amandascookin
Foodietummy https://foodietummy.com/
Get more stuff like this
Subscribe to our mailing list and get interesting stuff and updates to your email inbox.
Thank you for subscribing.
Something went wrong.